Photo by Marco Holloway Nov. 2018
"Every day we are alive is a beautiful day." – Debra Parmley
Debra Parmley is a multi genre, hybrid author who has been traditionally and Indie published and now has her own boutique press, Belo Dia Publishing Incorporated. Belo Dia is "Beautiful day," in Portuguese.
Born in Columbus, Ohio and adopted at the age of one year, she was raised in Springfield, Ohio. She has lived just outside Memphis, TN since 1997. Debra attended Marywood University in Scranton, PA and was the first student to win first place in two categories of the Delta Epsilon Sigma Beta Epsilon Chapter writing competition, in creative prose and in informal expository. Her poetry was published in literary journals while attending college. She holds a BA in English Literature.
Debra Parmley enjoys spreading love, one story at a time. Fascinated by fairy tales and folktales ever since she was young, she has always ended her stories with a happy ever after. Naturally drawn to romance, she has focused on writing romance in many sub genres. Damsel in distress stories are some of her favorites and you will find this theme in many of her stories.
Her western historical romances have been described as gritty. Her Victorian era westerns are A Desperate Journey, Dangerous Ties, Deadly Adversaries, and Isabella, Bride of Ohio. A new western box set Desperate, Dangerous and Deadly has been released in 2019 with the newest story, Deadly Adversaries along with A Desperate Journey and Dangerous Ties.
She enjoys writing about flappers in the 1920's with her Butterflies Fly Free series. Each book focuses on a different flapper. Trapping the Butterfly is book one. Dancing Butterfly is book two. Book three, Exotic Butterfly, will be out in the near future.
An Air Force veteran's wife, Debra writes military romance. Veterans hold a special place in her heart. Her contemporary romances with a military hero are Aboard the Wishing Star, Check Out, Montana Marine, Protecting Pippa, Protecting Zarifah, Defensive Instructor, Split Screen Scream, Marine Protector, and Blind Trust as well as To Catch an Elf: Pennsylvania Fighter Pilot releasing in the near future.
Her futuristic dystopian trilogy, The Hunger Roads, features a SEAL hero. Book one, A Change of Scenery, is available now. Down a Back Road, book two will be out in the near future. Into the Convergence Zone, is the last book in the trilogy and will also be out in the future.
Debra has set foot in over thirteen countries and her books often include things she has seen and learned on her travels. Her three favorite things are dark chocolate, visiting the beach and ocean, and hearing from her readers. Each card, letter and email is a treasured gift, like finding a perfect shell upon the beach.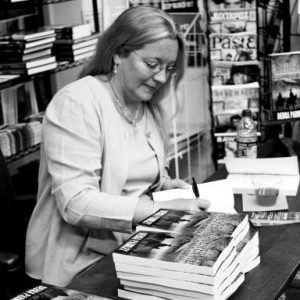 Debra signing her first book at Burkes Book Store in Memphis, TN 2009 Photo by Monica Parks